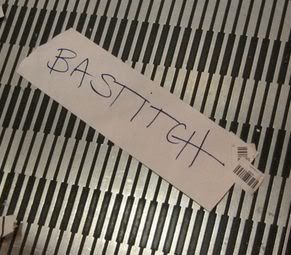 I'm not even sure why I blog anymore.
It's not like I'll quit.
Or
make an announcement that it's all over
.
I don't dig that.
I don't feel like I owe anything to the people who happen to read all of this.
Hell, I'm not even sure if people check in regularly to see that I haven't updated in a while.
It's like guys who say, "Bros. over ho's".
I always hear or read about some dude complaining about how his boy dropped everything for a women.
They call him "pussy whipped".
He's no longer a "good friend".
Duh
, muthafucka.
Our main objective in life as men is to fuck.
Constantly.
Do not assume otherwise.
Eating and sleeping?
Shit.
If you promised me pussy, I'd skip a couple meals or a night of sleep.
So if a man finds a woman who is attractive and willing have sex with him, he will do anything it takes to keep her around.
But some guys don't get that.
They feel betrayed as if the woman took his friend away.
But what's supposed to be great about great friends is the fact that they will always be there when you really need them.
If my boy found a good girl, good for him.
I'm happy for him.
Sure, he doesn't kick it as much.
He's always doing something with his woman.
But I don't mind.
That's his life.
And if I need anything, he'll be there for me.
And vice versa.
Oddly enough, that's how I perceive my relationship with my blog.
My blog is there when I need it.
It doesn't nag me to post when I don't feel like writing.
It doesn't talk shit behind my back.
It's just there.
Where?
Right here.
I used to tell myself that I wrote in my blog to communicate with the people who read it.
When I went through a tough part of my life, my blog was there for me to express myself without worrying about the response and about the backlash.
I look back on what I've written in the past 2 years and I don't regret a single thing I've written.
It feels good.
Refreshing.
Cathartic.
Not only when the words are written, but when they are read over and over again.
There's something about having a journal or a documentation of your life.
It's almost like an autobiography, not written for others, but for yourself.
It's something you can't measure in inches or in pounds.
Not even in years or in wrinkles on the face.
These blogs are a documentation of personal growth.
But people perceive honesty as vunerability.
Not many people are willing to let the guards down to notice.
It is the beauty of written word.
Reading back on your old blogs, you can still feel the emotion and understand the state of mind.
It's all worth it, no matter how little you put into it.