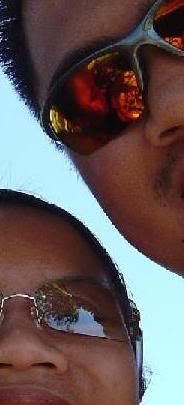 How am I feeling?
I'm okay. I mean, I don't walk around moping anymore. At least I don't think I do. Work was a burden earlier this week, but now it's serving as a good distraction from what's been happening. I can actually get a smile out now without noticably forcing one out.
I'm just exhausted. The stress I've gone through this past week coupled with the 2 hour nights of sleep have finally caught up to me. I'm burned out. Not from work or school, but from life. I just need a break. Before, I could momentarily get away by smoking a cigarette. It was a combination of feeling like I was rebelling from myself and the soothing feeling of nicotine in my blood. Then I moved on to alcohol. But it got to the point where I felt as if I was dependent on it. I was drinking every night, even on work nights. I gained a ridiculous amount of weight and began feeling unhealthy, gross, and yucky. And you know how that goes.
But it's not like I'm on the road to some black tar heroin or anything like that. I just need to find better ways to get away. I was thinking about going on vacation and doing something with the family. I also thought about taking vacation and just staying home and doing nothing. Sometimes all it takes is a few days of vegetation with a huge dose of absolutely nothing. Then again, it's cool to have those days once in a while. But an entire week? That's not productive.
But what I really want to do is come home from work everyday and do what I loved to do to get away from everything wrong in my life. I'd cuddle up to wife and hold on to her like I'd never have the opportunity to do so again. When I was in her arms, I could let everything go and know that no matter what, she could hold me in her arms and make everything feel better.
But now, I feel like I have no where to go to feel that way anymore. But I'm not mad. I'll be patient and gut it out. I know that once everything is okay, it'll be worth the wait.
At least I hope so.